Family Owned and Operated
Started with a small fleet as a light-duty towing service during the 80's. Classic Towing & Storage has now evolved into one of the leading towing and storage companies in Ontario, Canada, offering high-end services to thousands of happy clients.
In the beginning, our company started with only a few small trucks but after almost three decades of hard work, we now own more than 150 storage and tow trucks that include state-of-the-art heavy-duty trucks, flatbeds and all other weight classifications and designs. We offer a wide range of services to our customers including medium and heavy tow, pull start, winch & recovery, trailer lifts, container stacking, air-cushion recovery, rotator & boom work services, emergency & accident scene management and more.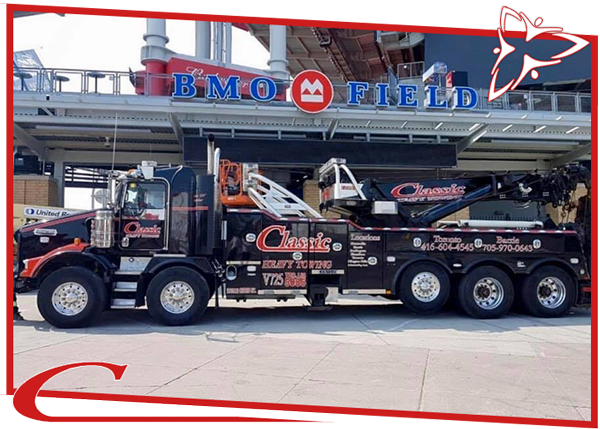 Our friendly and exceptional customer service makes sure to provide hassle-free service to our clients no matter what your needs are. We are also trusted for safe transportation of heavy industrial equipment and machinery by hundreds of our loyal corporate clients. Classic Towing & Storage is ranked among the most efficient and trustworthy towing and storage service companies for transporting heavy items.
We are also available for 24-hour dispatch of quick roadside assistance that includes services like car & battery boosts, gas delivery, flat tire service, car door unlock, service parking enforcement and other emergencies.
The corporate service division at Classic Towing & Storage is ranked as the best in the industry. We are currently offering services to renowned brands and companies like Avis, Hertz, Enterprise Car Rentals, Greyhound Bus Lines, Kenworth and more including City of Toronto EMS, Waste Management Divisions, and Fire Department.
Classic Towing & Storage is not only known for its most diversified fleet in Ontario and quick support, but also for its exceptional customer service. We have skilled, highly trained and experienced staff designated specifically at corporate, public and private divisions ensuring flawless support and service for every individual client.
Our head office is situated in Toronto with 8 more offices located throughout Ontario including Oshawa, St. Catharines, Barrie and Hamilton. To learn more about our services and pricing, feel free to contact us at any time of the day – you will always find us available and eager to help.
Request Service from your Mobile Device!
Classic Towing & Storage wants to make it easy for you to get help when you need it.  That's why we've invested in an online service request platform, enabling you to get help from your mobile device anytime day or night.  It's easy, convenient, and fast!
Tap the button below to request service online, and a team member from Classic Towing & Storage will be on their way in no-time!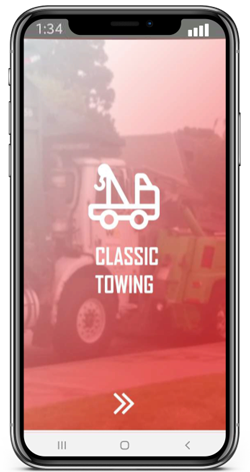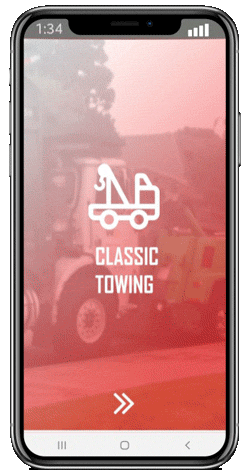 Carl came to get me when my car broke down in Hamilton. He was amazing!!! I was so stressed about the whole situation and he was kind and helpful. Service like this can turn a terrible situation into a minor inconvenience... I appreciate it so much. Thank you!! Jamesin Rossborough
22:21 05 Jul 21
I have not had the pleasure in meeting any of the guys from Classic Towing but my family has had the pressure of knowing how compassionate and outstanding they are. We are in Alberta and they so generously sent my son a gift for his 10th birthday due to his love of tow trucks... They didn't think twice about it and they made my sons day from afar. The towing brotherhood spans far and wide and they come together for each other in so many ways as they did for my son on his special day. I want to thank all the guys and Mikey Krzyszkowski with Classic Towing for their continued service day in an day out, risking their lives to help other. Please remember to MOVE OVER AND SLIW DOWN - they have families too.❤️❤️❤️❤️ Daralee Durand
02:39 23 Jun 21
Helped out a driver of mine this evening absolutely the best service with even a better price. Couldn't ask for better service from the crew. Thank you for everything!!!! Johnathan Weir
03:26 05 Jun 21
My brake warning light went on and I made it home safely! Ali from classic towing in Barrie was kind and helpful when he arrived to tow my van! Excellent service! Thank you Faron Lee Taylor
14:47 03 Jun 21
Shout out to Big Tom (I didn't get your name but my mom did so I hope I'm right) My car was borrowed by a friend doing me a favour and in a collision. When I arrived at the scene Classic was already there! Tom took the time to update me on what was going on as driver and police were busy. I had no idea what to do as I've never had to deal with the situation. He told me what to do, and arranged a rental for me (a late Saturday afternoon) and it arrived in 20 mins AT the scene! Will highly recommend and use again if needed! THANK YOU BIG TOM!! Tom even stayed with me while I waited for the rental and made sure I got off safe in the rental. Alyssa Canini-Russell
08:58 19 Apr 21