Family Owned and Operated
Started with a small fleet as a light-duty towing service during the 80's. Classic Towing & Storage has now evolved into one of the leading towing and storage companies in Ontario, Canada, offering high-end services to thousands of happy clients.
In the beginning, our company started with only a few small trucks but after almost three decades of hard work, we now own more than 150 storage and tow trucks that include state-of-the-art heavy-duty trucks, flatbeds and all other weight classifications and designs. We offer a wide range of services to our customers including medium and heavy tow, pull start, winch & recovery, trailer lifts, container stacking, air-cushion recovery, rotator & boom work services, emergency & accident scene management and more.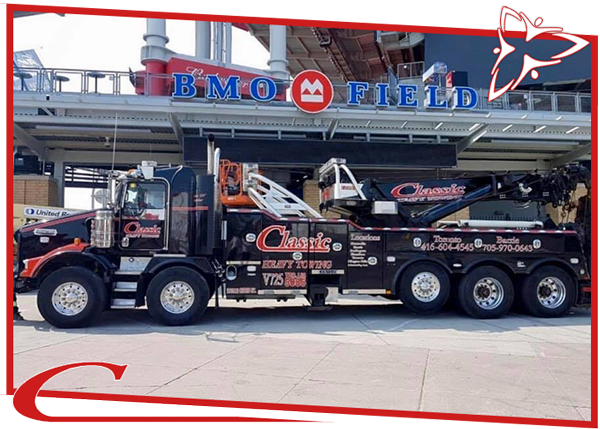 Our friendly and exceptional customer service makes sure to provide hassle-free service to our clients no matter what your needs are. We are also trusted for safe transportation of heavy industrial equipment and machinery by hundreds of our loyal corporate clients. Classic Towing & Storage is ranked among the most efficient and trustworthy towing and storage service companies for transporting heavy items.
We are also available for 24-hour dispatch of quick roadside assistance that includes services like car & battery boosts, gas delivery, flat tire service, car door unlock, service parking enforcement and other emergencies.
The corporate service division at Classic Towing & Storage is ranked as the best in the industry. We are currently offering services to renowned brands and companies like Avis, Hertz, Enterprise Car Rentals, Greyhound Bus Lines, Kenworth and more including City of Toronto EMS, Waste Management Divisions, and Fire Department.
Classic Towing & Storage is not only known for its most diversified fleet in Ontario and quick support, but also for its exceptional customer service. We have skilled, highly trained and experienced staff designated specifically at corporate, public and private divisions ensuring flawless support and service for every individual client.
Our head office is situated in Toronto with 8 more offices located throughout Ontario including Oshawa, St. Catharines, Barrie and Hamilton. To learn more about our services and pricing, feel free to contact us at any time of the day – you will always find us available and eager to help.
Request Service from your Mobile Device!
Classic Towing & Storage wants to make it easy for you to get help when you need it.  That's why we've invested in an online service request platform, enabling you to get help from your mobile device anytime day or night.  It's easy, convenient, and fast!
Tap the button below to request service online, and a team member from Classic Towing & Storage will be on their way in no-time!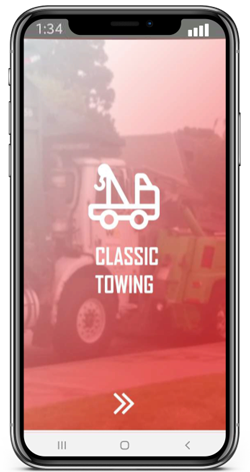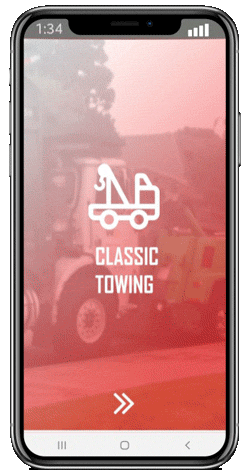 I read up a post about Mrs. Kayla Williams, I was still in doubt kept seeing many testimony's of her good work so I was convinced and decided to give it a try and I gavein my last shot and invested $1000 for a start just in 7 days of trading I earn $15000 as she promised me, now I have gotten my second withdrawal withoutpaying for other charges fee like other account manager, If you are searching for an honest account manager, search no more and add up Mrs. Kayla Williamswho taught me all I needed to know, thank you mam and may you have strength to continue to help others like you did for me. You can reach her viaEmail: Kaylawilliamscrypto@gmail.comWhatsApp number:+1 (804)214-7544 Asman Asman
02:11 14 Jul 22
I'm so excited I got a profit from a lender who helped me with my investment. it was amazing how I got my profit…I tried a different service but I could never get aprofit from that service. some of them will ask me to fill a lot of documents and at the end of the day it will not end well. but after meeting with Mrs Kayla Iwas able to get my profit of $150,000. dollars now my business is going well and I want you all to know this today because she is fast and 100% reliable. I started with $1,000 and i am now earning $15,000 every weekNow I can pay my bills. (binary trading investment) all over the world. Get in touch with MRS Kayla and don't wast much time. contact viaEmail: kaylawilliamscrypto@gmail.comWhatsApp:+1 (804)214-7544 Gcinile Ngonyama
18:17 10 Jul 22
Good day, We wanted to extend a heartfelt thank you to your driver Hamed Popalazai of Classic Towing . He went to tremendous effort to find jerry cans and gas when we were stranded in Peterborough and delivered them with a smile after the big storm . His professionalism , and dedication was appreciated. Love watching your team at work on 401 Heavy Rescue. Keep up the great job. Mary-Alice and Jay Harvey Mary-Alice Harvey
18:50 22 May 22
This is a great period of time to Invest and earn reasonable profits with great signals on bitcoin and binary trade, with the help of a woman called Mrs DEBRA, she is the best account manager I have ever known or heard of.She has been helping me. I started with just $500 and now am getting great profits like $5,500 upward.You get to withdraw yourself after 6-7days of trading,No extra commissions.If interested, you can contact my trader via:Email: debragary777@gmail.comWhatsApp: +12522852775She very trustworthy and reliable. Michael Abia
21:36 14 May 22
Classic was outstanding. They processed my vehicle immediately. Ryan was very quick and helped me out immensely. Can't go wrong with these guys. Livio Passalent
19:18 10 May 22